Which footballers have displayed their religious views on the pitch?
Plus: father and son managing the same team (2); Spurs' half-baked 1987 FA Cup final kit; and politicians lobbying for topless male players. Send your questions and answers to
knowledge@guardian.co.uk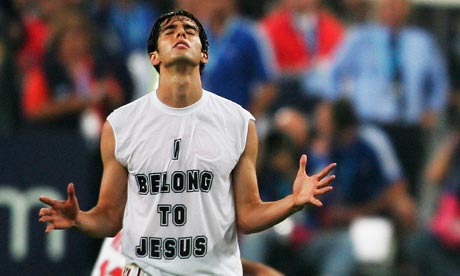 "Kaka has made it pretty clear that he 'belongs to Jesus'," wrote Jamie Jones, with reference to the 2007 Champions League final we'll be bound. "But have any other players publicly displayed their religious views on the field?" he asked.
O yea, came the reply from many of the Knowledge brethren. First in line, like an eager Catholic queueing up to receive booze and biscuit from the priest, is Rob Davies. Rob resides in Walsall, and it seems he is not the only one. "The Brazilian striker Junior scored for my hometown club," he writes, "and celebrated by lifting up his top to reveal a T-shirt with the slogan 'Jesus lives in Walsall'." Not that Rob was particularly impressed. "Jesus must have lived in Derby as well, because that's where Junior went the season after."
While Mr Christ's exact address may remain a moot point, there is one thing we know for certain. And that's that he loves us. This is because, in addition to Kaka, we've also been told by numerous other Brazilian internationals. "Almost the entire 2002 Brazilian squad seemed to have similar slogans under their shirts when they won the World Cup," notes Mohammed Choudhary, he of the amazing X-ray eyes. Of course we jest: Mohammed is no doubt referring to the likes of Lucio and unused substitute Kaka cavorting about in their vests, but only half the team scrawled religious messages on captain Cafu's shirt before he lifted the trophy. "Lucio still does it at Bayern Munich," adds Rajan X, who may or may not be a distant relation of Malcolm.
Speaking of Muslims, and indeed Bayern, Paul Haynes reports how "Franck Ribéry raises his hands to Allah at the beginning of every match as he enters the playing area". As does, Mohammed Choudhary adds, Fredi Kanouté of Sevilla: "He has always been quite open about being a Muslim. Whenever he scored, he would open up his hands in supplication, like most Muslims do after their prayers. He tried to cover the 888.com advert on his Sevilla shirt because gambling is against his religion." Kanouté was even fined €3,000 by the Spanish Soccer Federation for celebrating a goal against Deportivo de La Coruña by
lifting his shirt to reveal a T-shirt with the word 'Palestine' adorning it
, plus other Arabic words. Article 120 of the rules and regulations in Spain prohibits players from displaying religious or political messages on the pitch.
Getting his message across on the field was something devout Christian Marvin Andrews was only too happy to do while at Rangers. "I don't remember any T-shirts," writes Ciaran Carey, "but he publicly declared having sought God's advice on transfer matters and also spurned an operation on a cruciate ligament injury, declaring his faith would see him through." Reinforcing his religious outlook, Andrews
explained to Small Talk
in 2007 why homosexuality "is against the word of God", adding that "the Bible said that it's an abomination to God; that God created a man to be with a woman or a woman to be with a man. Simple as that." The Knowledge also vaguely recalls listening to Andrews being interviewed on Radio Five Live in the immediate aftermath of Rangers' 2003 SPL win. Upon being asked for his reaction, Andrews sobbed uncontrollably for the best part of a minute, before screaming "I love God" for another 60 seconds or so. It was an improvement on "the boys done good", at least.