Which is the least successful testimonial match ever?
Plus: Playing at Wembley over and over and over again; the shortest time between two penalties (2); and when players attack – with corner flags. Send your questions and answers to
knowledge@guardian.co.uk
and
follow us on Twitter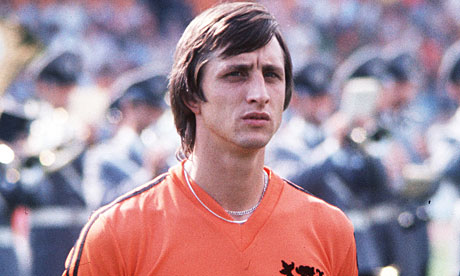 "Which is the least successful testimonial match ever?" tweets Matthew Britton. "Has one ever been done at a loss to the player and club?"
Success, where testimonials are concerned, is somewhat subjective. It's fair to suggest the
17-man brawl that enlivened Julian Dicks' testimonial
was a bonus for fans who attended, though hardly conducive to an afternoon of backslappery. And take Johan Cruyff's farewell fixture for Ajax against Bayern Munich. You might think the result doesn't matter in a testimonial and, by and large, you'd be right, but what about when the team you invite turn up and give you a
proper shoeing
?
"The German champions wanted to show their Dutch counterparts something after earlier defeats and not being welcomed at Schiphol Airport," writes Dave G Boham. "They even had to sleep at a sub-par hotel. After jeers from the crowd, they showed their hosts something. Three goals were disallowed during the 8-0 hammering dished out by the Bavarians. The Ajax players just wanted to have a good time. In 2006, Bayern apologised."
And finally there's the testimonial that you have fork out £100,000 just to play. Anders Rokstad points out that Southampton's Scandinavian stalwart Claus Lundekvam had to do just that for his testimonial in 2008 after Bon Jovi made a mess of the St Mary's pitch. With Celtic, Lundekvam's desired opponents, only able to make a handful of dates, there was no time for the Saints to reseed the pitch after the popular American beat-combo had finished belting out Livin' on a Prayer and Keep the Faith. Lundekvam, though, stumped up for an emergency job.
"Claus has sacrificed a lot of money to put the game on with Celtic and the thing with Claus is that he wants an opportunity to say goodbye to everybody," said Matt Le Tissier. "He's the kind of guy if the game just breaks even and everybody has a great night he'll be delighted.
"Claus had his heart set on getting Celtic down because of Gordon Strachan who was his favourite manager. Celtic have done us a bit of a favour as well by reducing the fee they usually charge for a testimonial so we thank Celtic for that but it's costing quite a lot of money to put the game on.
"As a testimonial committee we've had to purchase a pitch and that doesn't come cheap. It was the only way we could get Celtic and we've taken that risk in the hope that the fans turn out in their numbers and make it a great night for us."