http://www.theguardian.com/lifeandstyle/2014/feb/22/torvill-dean-restless-family-angel-delight
We love to eat: Angel Delight fruit faces
Ingredients
1 sachet of Angel Delight (preferably butterscotch)
Half a pint of full milk
1 banana
Whichever other fruit you may have lying around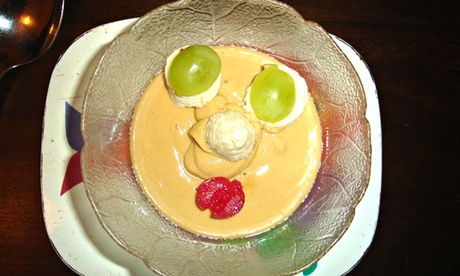 Mix the Angel Delight and milk. Leave it to set in the fridge for a few minutes. Cut the banana into slices and use one slice to make the mouth. Use whichever fruit you have to make the eyes and nose. A glace cherry is best for the nose and green grapes for the eyes – see my photograph for reference, made with butterscotch flavour.
Growing up in Walsall in the mid 80s, our Saturday tea (the meal you eat at approximately 5pm – it isn't called dinner or supper in the West Midlands) was always chips, fish fingers, beans and two slices (never more, never fewer) of bread and butter.
When Mom (that's the West Midlands spelling – it isn't Mum) brought the dessert dishes out of the kitchen, my dad, sister and I all knew we were going to get Angel Delight. But which flavour? Was it to be banana, strawberry or, my favourite, butterscotch?
And what would the face be made of? We could easily guess, as there were never many options.
We always had a large tub of glace cherries in the cupboard – possibly left over from Mom's Christmas trifle. They were used for the nose.
There was only one option for the mouth. A banana, cut lengthways, and then halved – depending on how much room there was across the dish. No other fruit would do the job.
The eyes were where my mom would let her imagination go wild. For the weeks leading up to Christmas it was two segments of a satsuma. Christmas week itself, it would be walnuts. The authentic choice was white grapes. Mostly though, it would be two more slices of banana – cut sideways.
Recently, I moved to Bangkok. The first parcel I received from Mom and Dad contained three sachets of butterscotch Angel Delight. I made it straight away, minus the fruit face. It just wouldn't taste the same without Mom's touch.
Robert Davies